Last week the death of the actor Harry Morgan was announced. He had starred in many films and TV programmes during the span of his long career, however many would fondly remember him for his role as Colonel Sherman T. Potter in the TV series "M*A*S*H." It's certainly where I remember him best.
"The actor Harry Morgan, who has died aged 96, was best known as Colonel Sherman T Potter, commander of the 4077th Mobile Army Surgical Hospital in M*A*S*H, the wonderfully witty and sharp television series set in an army camp during the Korean war. He played Potter, an expert surgeon and a father figure in the camp, from 1978 until 1983."
His character had been involved in both world wars and the Korean war. He played his character with humility, grace, and a presence that was kindly but authoritative. I don't think that is necessarily an easy character to play, so I think it's a testament to Harry Morgan that he pulled it off so well and that so many people recognise him and admire him for that.
From the same article:
"Exuding an air of respectability, Morgan played the tough but reasonable judge in the famous "monkey trial" of 1925, in which a schoolteacher was tried for teaching Darwin's theory of evolution, in Stanley Kramer's Inherit the Wind (1960), and was General Ulysses S Grant in How the West Was Won (1962). Later he played sheriffs in a number of westerns, notably in The Shootist (1976), John Wayne's final film. When Morgan hears that Wayne's ex-gunfighter has cancer, he starts to whoop and laugh. "The day they lay you away, what I do on your grave won't pass for flowers!" he yells.

Throughout the next two decades, Morgan was active in films and on television, including the TV movies The Incident (1990), Against Her Will: An Incident in Baltimore (1992) and Incident in a Small Town (1994), in all three of which Walter Matthau, as a small-town lawyer, and Morgan, as a judge, sparred amiably. But it was his Colonel Potter in M*A*S*H that gave him his widest claim to fame, and won him an Emmy in 1980 as outstanding supporting actor in a comedy series. He also appeared as Potter in the spinoff AfterMASH (1983-85), set in a veterans' hospital in the fictional town of River Bend, Missouri"
Rest in peace Harry Morgan. A great actor, a true gentlemen.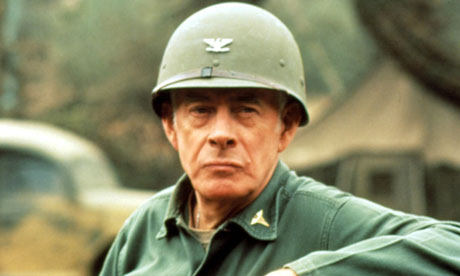 Source:
http://www.guardian.co.uk/film/2011/dec/08/harry-morgan?newsfeed=true